40TH ANNIVERSARY CONCERT & CELEBRATION
Was held at The Lobero Theater, Santa Barbara CA, on 10/26/19.
Huge shout-out of thanks to the sold-out crowd!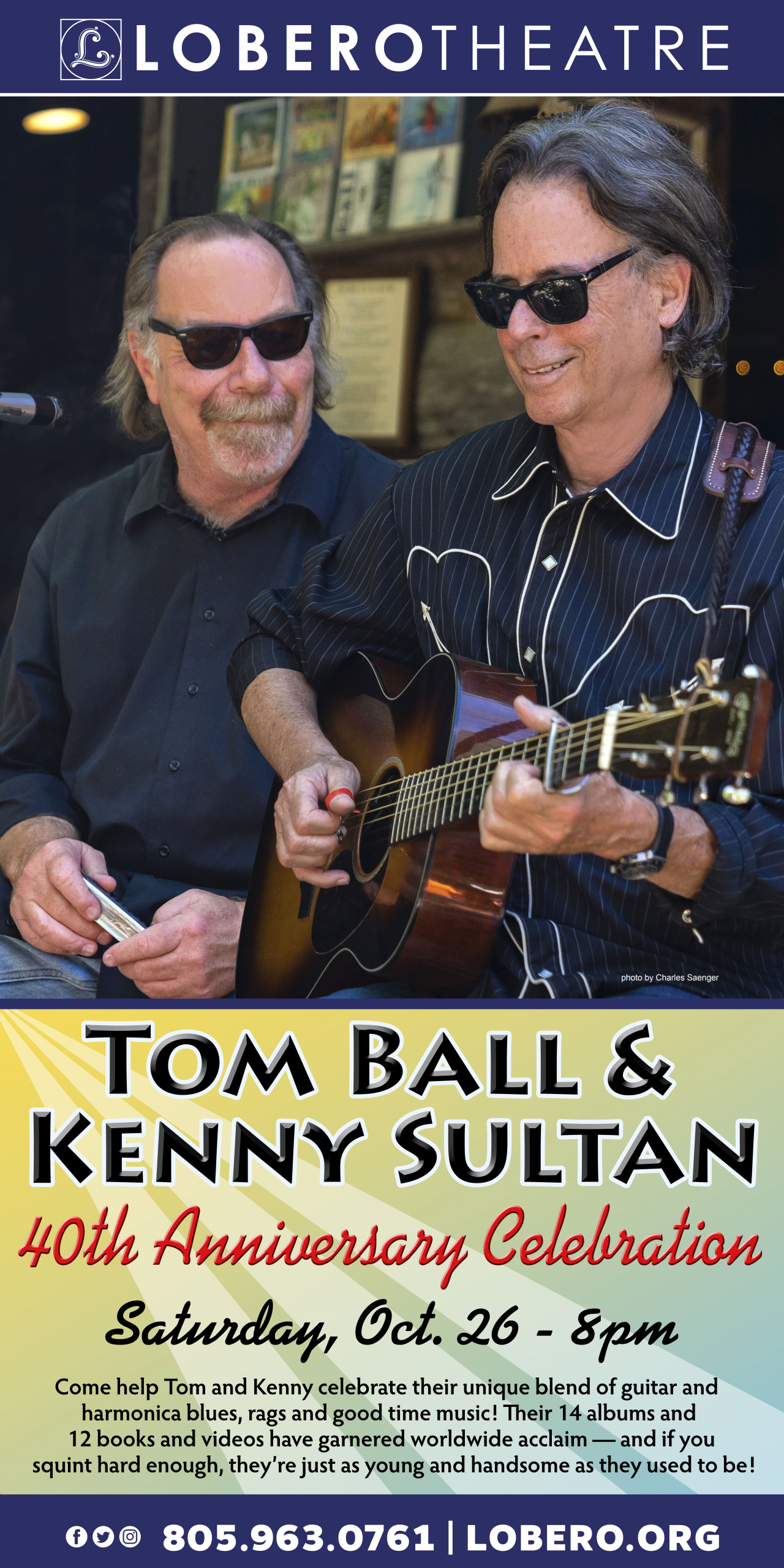 Flying Fish / Rounder recording artists Tom Ball & Kenny Sultan have been bringing their unique blend of guitar and harmonica blues, rags and good time music to widely diverse audiences for 44 years. Their live performances include concerts, clubs and festivals all over the world, and they were the only musical act in America to play all four venues of the 1984 Olympic Games.
Together and separately they have worked on countless film scores, TV soundtracks, commercials and sessions. They've appeared on television internationally, were featured on the "Levi's 501 Blues" commercials, have played for audiences of 300 million via Voice of America and are frequent guests of National Public Radio. In addition to working with Kenny, Tom has nearly 300 CD credits... and Kenny was recently honored by Martin Guitars with his own Signature Model 00018KS.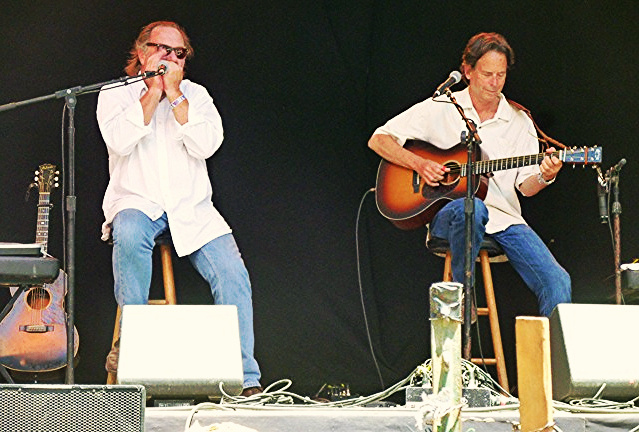 Their eight duo albums have garnered critical acclaim throughout the world, and their music from the film "Over The Edge" won the duo the prestigious Telly Award in 1994.

At home wherever they go, Tom and Kenny fit in at blues, folk, bluegrass and jazz festivals, and their extensive teaching backgrounds make them a natural choice for college campuses or venues that feature workshops. Because their music is a blend of American roots styles, they are regulars overseas, drawing rave reviews.
Please take a moment to peruse this site and become acquainted with the duo that has been called, "America's Good Time Blues Ambassadors."
And please click the links at the top of this page to navigate this site. Thanks for visiting!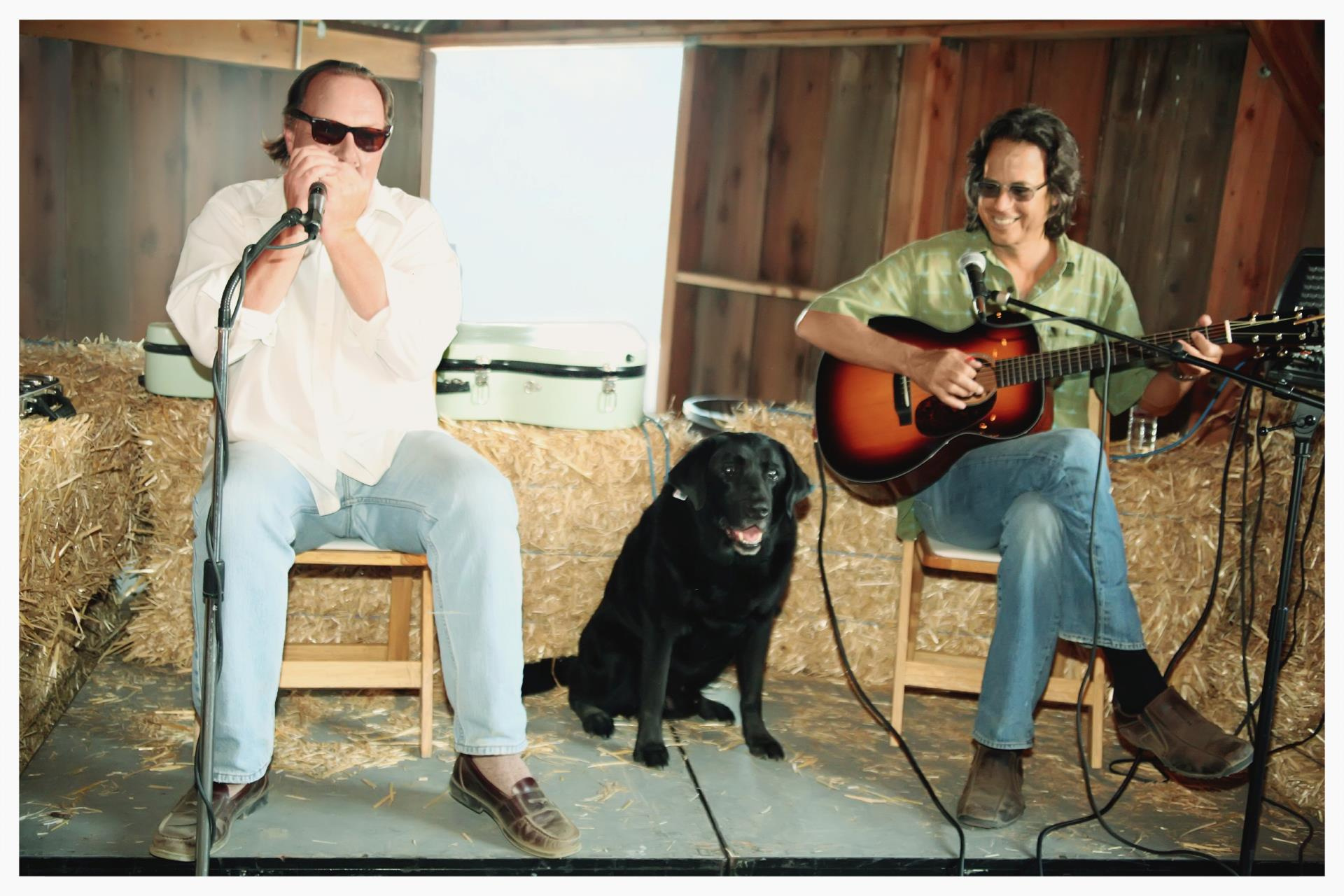 photo by Kimberly Clarke Citro
Blues Revue: "Stupendous playing."
Sing Out: "As good as anyone in acoustic blues."
L.A. Times: "These guys are great."
Long Beach News: "There's nothing here that's less than jaw-dropping perfect."

Cash Box: "Feature pick - first rate."

WIKX-FM: "(Double Vision is) the best album of the last 30 years!"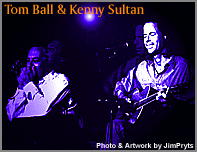 Folk Roots (England): "Consummate musicians."
Vintage Guitar: "What's not to like, I ask you?!"

Option: "Exceptional... remarkable."

San Diego Folk Notes: "These guys were fantastic!"
Blues Matters (England): "Absolute joy!"
Night Light: "Their mojo is working like a Swiss watch!"
Acoustic Musician: "Deliciously fun to watch and listen to."
Living Blues: "Irrepressible... a unique style and a sly attitude."

Cadence: "A musical distraction of the first degree."
Goldmine: "Superb, knowledgeable and eclectic."

National Public Radio: "GIMMEE Award Winner - Album Of The Year."

L.A. Weekly: "Unique and delightful, with whoops and hollers for all."

Wood River Journal: "Dynamic duo."
Victory Review: "Immensely likable... flawless, yet gloriously bawdy."
Bluegrass Unlimited: "If there was a rent party going on, I'd want these guys there."
S.B. News & Review: "Some of the most authentic hard-driving, technically advanced blues-rooted music anywhere."
Sound Choice: "The best acoustic blues act going, bar none!"

Dirty Linen: "Continued mastery of the blues duo genre."
Il Blues (Italy:) "Buono!"
Acoustic Guitar: "Somewhere, Sonny and Brownie are smiling."
"""
Films and TV shows that have featured Tom and/or Kenny's music:
"Saturday Night Live"
"Pawn Stars"
"The Distinguished Gentleman"
"Dancing With the Stars"
"Hoot"
"The Simple Life"
"Handcrafted America"
"Walkabout"
"Over The Edge"
"Swamp People"
"Tiny House, Big Living"
"Bizarre Foods, Delicious Destinations"
"Root Sports"
"Spreading Darkness"
"Shetland Lone Star"
"Next Great American Band"
"Kicking And Screaming"
"L'epicerie"
"Seraphonium - Live!"
"Biography"

"Labor Of Love - The Arlette Schweitzer Story"
"NFL Football"
"Free Your Mind"
"Road to the Olympic Games"
"12 Bucks"
"King Of The Hill"
"Golf Advisor Round Trip"
"P.O.V.: Tobacco Blues"
"Wife Swap"
"The Day Tripper"
"Soup"
"Southern Fried Homicide"
"Invasion of the Freedom Snatchers"
"NASCAR Race Hub"
"Sportsman MacMillan"
"Do You Wanna Dance?"
"Dr. K's Exotic Animal ER"
"Camera Tout Terrain"
"Beverly Hills Family Robinson"
"E - True Hollywood Story"
"Johnny Bago"
"FOX College Football"
"Beyond The Glory"
"Chopped"
"Wrongside Bob"
"Mythbusters"
"Chopped Junior"
"Tout le Monde en Parlait"
"Rupert's Land"
"Diesel Brothers"
"Tales of Appalachia"
"Huey's Cooking Adventures"
"Brockmire"
"Carnival Eats"
"Aerial America"
"Tous Pour un Chalet"
"Bizarre Foods"
"EXO's Ladder"
"Building Alaska"
"Outdoor Life"
"In Town and Out"
"Crush With Lee and Tiffany"
"Bitchin' Rides"
"State Plate"
"This Week in WWE"
"Huey's Greatest Hits"
"Aerial Cities"
"Hide 'N' Snake"
"Maine Cabin Buiilders"
"Mercante Soiree"
"Somebody Feed Phil"
"Telejournal"
"Australia - More Than The Outback"
"Tigger and Pooh and a Musical Too"
"Les Semaine Verte"
"Food Paradise"
"MeatEater"
"Rad"
"Kindig Customs"
"Maine Cabin Masters"
"Monty Don's American Gardens"
"Take Out"
"Church Kids Gone Wild"
CBS and NBC Movies Of The Week
and many more.
Further info and stories on Tom & Kenny:
TOM on
HAPPY HOUR HARMONICA PODCAST
(episode 54) with Neil Warren (2022)
INTERVIEW with TOM about the duo, on CountryBlues.com (2019)
TOM in Harmonica World (2015)
TOM & KENNY in Mix Magazine (2015)
TOM & KENNY in Noozhawk (2012)
KENNY in Vintage Guitar (2011)
TOM in
Harmonica.com (2014)
TOM & KENNY in Santa Ynez Valley Journal (2011)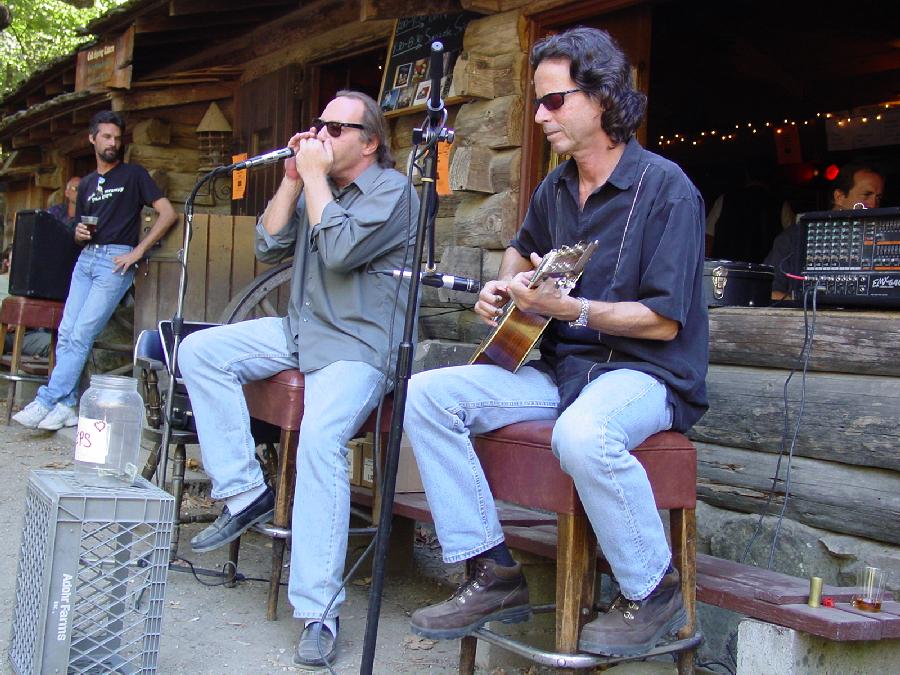 TOM & KENNY in Blues Matters (England) (2010)
TOM & KENNY in Seasons (2010)
LESSONS:
For those of you who live near Santa Barbara or plan a visit, both Tom and Kenny teach private lessons (Kenny on guitar, Tom on diatonic harp.) Feel free to email either Tom or Kenny for rates and availability.
TO BUY PRODUCT:
Please note that all CDs, books, videos, etc, are also available by mail order directly from Tom & Kenny, and at prices probably less than what your friendly neighborhood web store might charge! The boys are also happy to sign and/or personalize any of these products. For information please feel free to Email either Tom at
havaball@cox.net
or Kenny at kennysultan (at) aol (dot) com

TOM & KENNY are equally at home as a headliner or as an opening act and over the years have shared the stage with some of the best, including: Mose Allison, Allman Brothers, Dave Alvin, Asleep at the Wheel, Beach Boys, Pierre Bensusan, Norman Blake, Bobby "Blue" Bland, Blues Brothers, Paul Brady, David Bromberg, Lonnie Brooks, Charles Brown, Gatemouth Brown, Ruth Brown, Jackson Browne, Eric Burdon, Solomon Burke, Sam Bush, Roseanne Cash, Ray Charles, Clifton Chenier, Coasters, Joe Cocker, Ry Cooder, Albert Collins, Bootsy Collins, Judy Collins, Johnny Copeland, Elvis Costello, James Cotton, Robert Cray, Pee Wee Crayton, Papa John Creach, R. Crumb & the Cheap Suit Serenaders, Bo Diddley, Dillards, Willie Dixon, Donovan, Jerry Douglas, Bob Dylan, Snooks Eaglin, Fabulous Thunderbirds, Marianne Faithfull, Freddy Fender, Five Blind Boys, Mick Fleetwood, Vince Gill, Al Green, Peter Green, Nanci Griffith, David Grisman, John Hammond, Ben Harper, Emmylou Harris, John Hartford, Jeff Healy, Don Henley, John Lee Hooker, Lightnin' Hopkins, Hot Rize, Billy Idol, Iron Maiden, Etta James, Sharon Jones & the Dap-Kings, Keb Mo', Chaka Khan, Albert King, B.B. King, Ben E. King, Kingston Trio, King Sunny Ade, Leo Kottke, Alison Krauss, Fela Kuti, Jim Kweskin & Geoff Muldaur, Jonny Lang, Larkin Poe, David Lindley, Little Feat, Little Milton, Living Color, Kenny Loggins, Los Lobos, Charlie Louvin, Lyle Lovett, Rose Maddox, Taj Mahal, Kathy Mattea, John Mayall, Percy Mayfield, Del McCoury, Michael McDonald, Brownie McGhee, Jim Messina, Long Gone Miles, Bill Monroe, Van Morrison, Maria Muldaur, Charlie Musselwhite, Nashville Bluegrass Band, Willie Nelson, Aaron Neville, Neville Brothers, Newgrass Revival, Randy Newman, NRBQ, Tim & Mollie O'Brien, Maura O'Connell, Mark O'Connor, Johnny Otis, Ross Perot, Peter, Paul & Mary, Iggy Pop, Lloyd Price, John Prine, Flora Purim & Airto, Bonnie Raitt, Lou Rawls, Tony Rice, Peter Rowan, Earl Scruggs, Son Seals, Seldom Scene, Paul Simon, Simple Minds, Ricky Skaggs, G.E. Smith, George "Harmonica" Smith, Mavis Staples, Marty Stuart, Koko Taylor, Temptations, Paul Thorn, George Thorogood, Toto, Tower of Power, Big Joe Turner, Dave Van Ronk, Townes Van Zandt, Stevie Ray Vaughan, Eddie "Cleanhead" Vinson, Jr. Walker and the All Stars, Phillip Walker, Doc & Merle Watson, Gillian Welch & David Rawlings, Junior Wells, Jimmy Witherspoon, Stevie Wonder and many more...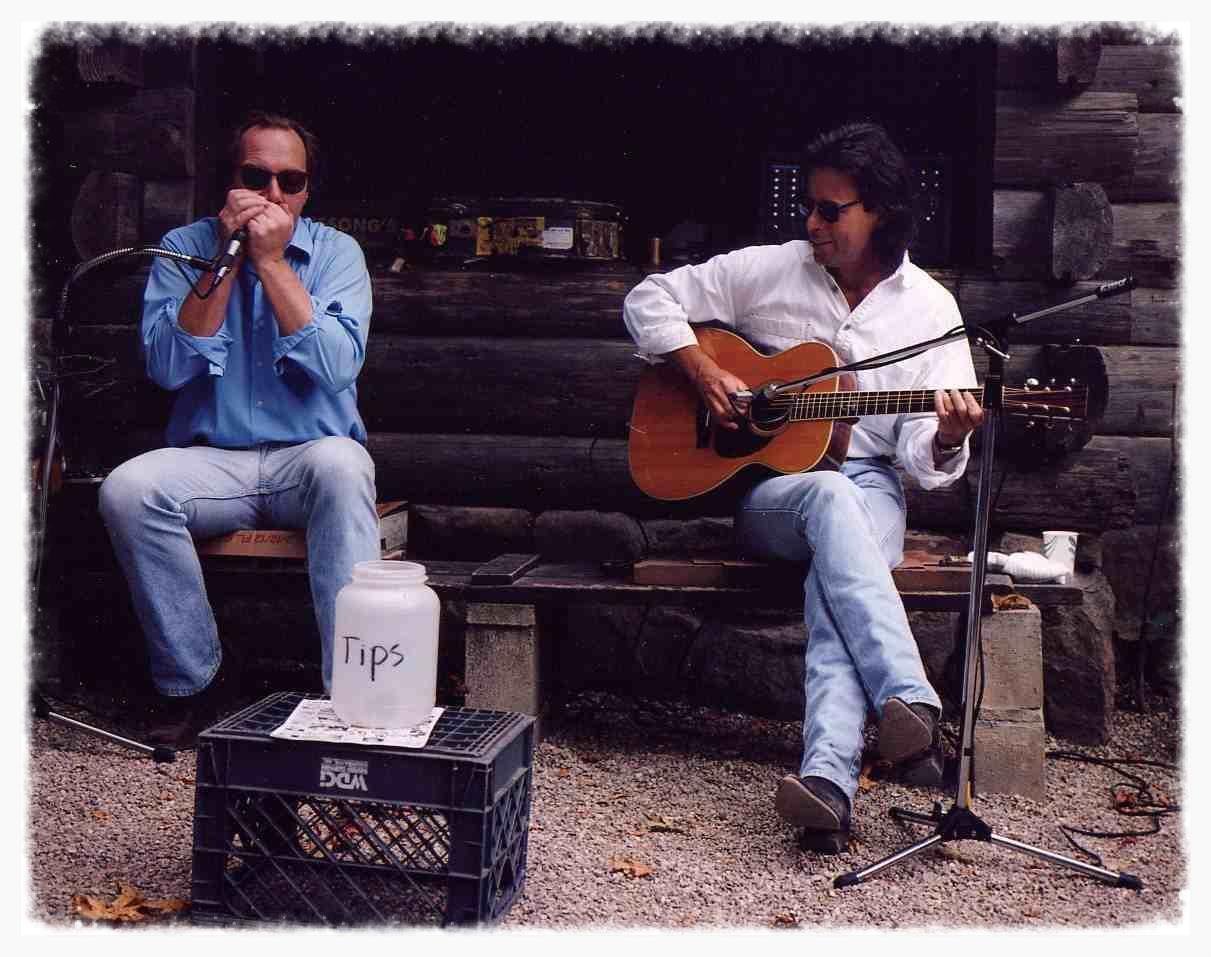 photo by Larry Sultan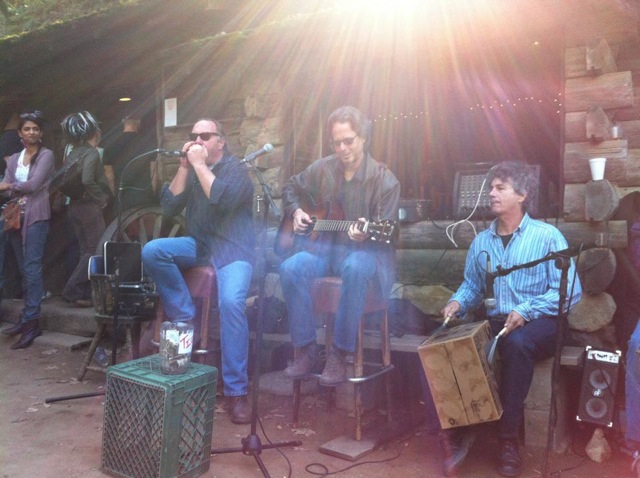 with our pal Jody Eulitz on electronically-amplified Castrol GTX 40-weight motor-oil cardboard corrugated gift carton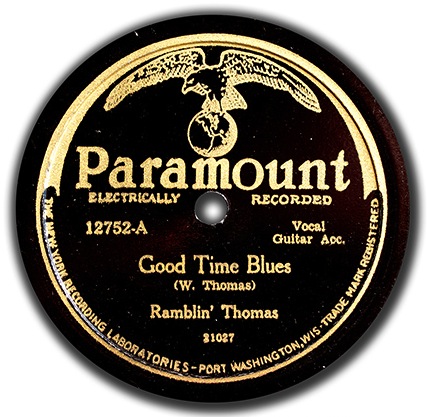 NOTE: All original songs by Tom Ball & Kenny Sultan are published
by Good Time Blues Publishing and administered by BUG Music (now BMG Music, BMI.)